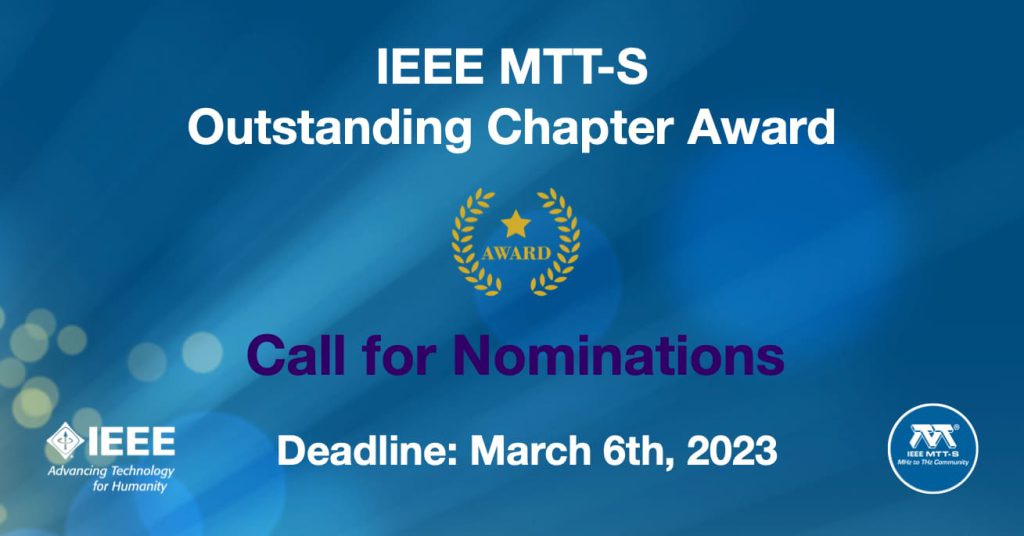 2023 IEEE MTT-S Outstanding Chapter Award
Call for Nominations
Deadline: March 6th, 2023
Nominations are invited from the MTT-S Chapters for the MTT-S Outstanding Chapter Award, which is given each year worldwide based on the quantity and quality of the activities and programs implemented by the chapter during the previous year (January 1 to December 31 2022). Nominations may be submitted by any Officer belonging to that Chapter, which will be reviewed by the MTT-S MGA Award Committee.
Any MTT-S Chapter including the Joint Chapter, and the Student Branch Chapter, is eligible for this award. Nominations will be evaluated based on the technical, societal, and educational activities, membership advancement, successful MTT-S membership recruitment etc. The nominations should include a brief description and photographs of major Chapter activities during the previous year.
Each winning Chapter will receive a plaque to be presented at an MTT-S Conference Chapter Chairs Meeting. Travel and lodging reimbursement will be provided for a representative of each awarded Chapter to attend the Chapter Chair meeting where the award will be presented.
A Chapter that has previously received the Outstanding Chapter Award is eligible for re-application only after three years from the year of the award.
For more details, contact: Prof. Jaleel Akhtar or Prof. Amelie Hagelauer.
Please submit your nomination form below by March 6th, 2023.