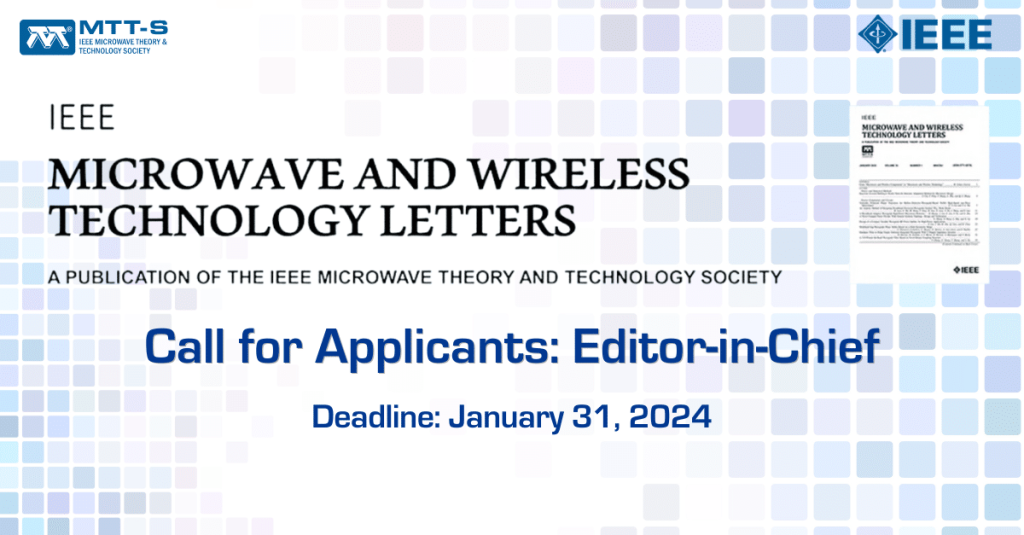 Call for Applicants: Editor-in-Chief
IEEE Microwave and Wireless Technology Letters (MWTL)
Deadline: January 31, 2024
The IEEE Microwave Theory and Technology Society (MTT-S) invites applicants for the position of Editor-in-Chief (EiC) for the IEEE Microwave and Wireless Technology Letters (MWTL) for a three–year term starting on January 1, 2025.
The EiC organizes the peer review of the received manuscripts, provides constructive feedback to the authors, makes acceptance decisions, and assembles each issue of the periodical for transmission to IEEE Publications. The EiC assembles a panel of Track and Associate Editors covering different subject areas, and an editorial assistant to help carry out the editorial work. The editorial work must be compliant to the IEEE Technical Activities Board (TAB) and Publications policies. The EiC appointment is for a period of three years and is subject to the approval of the MTT Society Administrative Committee. The EiC reports to the MTT Society Adcom through its Publications Committee at three meetings each year and is expected to attend the IEEE Panel of Editors meeting that takes place once per year.
The application can be made online by filling in the form below and the deadline is January 31, 2024. No late application will be considered.
For any inquiry of information, please contact the Search Committee Chair, Professor J.-C. Chiao at chiao@ieee.org.