Innovative Competition at IMS2022 Showcases the Next Generation of RF/Microwave Designers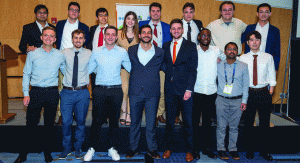 I had the honor for the fourth year in a row of being the moderator for the Three Minute Thesis (3MT) competition at the International Microwave Symposium (IMS) in June of this year. Now in its sixth year, at IMS, this unique event challenges engineering Ph.D. candidates and young professionals to stand up in front of a roomful of people and panel of judges and make a presentation appropriate to a nonspecialist audience in three minutes or less using a single static slide.
This year's winners were Connor Rowe of the National Institute of Scientific Research, Ajibayo Adeyeye of the Georgia Institute of Technology, and Alexander Poßberg of the University of Duisburg-Essen.
This the combination of soft skills and solid technical knowledge is becoming more and more valued by employers who are now looking for negotiation skills, emotional intelligence, and people management skills in addition to technical ability. Competitions like IMS 3MT are a great way for our future technology leaders to hone their skills in these vital areas. Read the details of this year's competition in the October issue of IEEE Microwave Magazine.
https://ieeexplore.ieee.org/stamp/stamp.jsp?tp=&arnumber=9877794
-Sherry Hess
WIM Chair 2022