IN THIS ISSUE
From the Editor
Table of Contents for recent MTT publications
MTT-S Call for Award Nominations
The 2014 IEEE Women in Engineering Awards
IEEE to Integrate Bell Labs Technical Journal into the IEEE Xplore Digital Library
IEEE Annual Elections
IEEE Annual Report
IEEE Student Travel Grants
A Little Humor
Interesting Reads of the Month
Upcoming Deadlines
Upcoming Conferences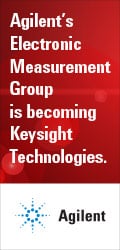 Thought of the Month:
"Any sufficiently advanced technology is indistinguishable from magic." – Arthur C. Clarke
From the Editor
Welcome to the July 2014 issue of the IEEE MTT-S e-newsletter; the official monthly e-newsletter for MTT-S members. The IMS 2014 was a great success. Let's look at a few key figures:
894 original paper submissions, 441 accepted out of 863 reviewed (51.1% acceptance rate).
266 identified Student Paper Competition entries, 151 accepted student competition papers, 33 finalists recommended by the TPRC Subcommittees.
68 technical sessions, 5 Special Sessions, 4 Focus Sessions, 93 Interactive Forum papers (Wed./Thu.).
11 Student Design Competitions (record number), 80 teams and over 180 students signed up to participate.
34 Workshops (IMS: 13 Full-Day and 3 Half-Day; RFIC or RFIC/IMS: 12 Full-Day and 4 Half-Day; ARFTG or ARFTG/IMS: 1 Full-day and 1 Half-Day, 4 Short Courses)
You can checkout some videos from IMS 2014 here.
— Bhaskar Banerjee
Editor, MTT-S eNewsletter
Table of Contents for recent MTT publications
MTT-S Call for Award Nominations
Honoring MTT members, your peers and colleagues, was one of the reasons why the MTT society was formed. It's a good time, with the International Microwave Symposium coming up, to work with your colleagues to nominate deserving people for MTT Awards, especially the MTT-S Technical Awards.
Nomination Deadline: August 1, 2014
For more information, go to page.
Your support of the awards process helps the fabric of the MTT society, and honors those that deserve to be honored. For additional information contact Dr. Charles Jackson, MTT-S Awards Committee Chair.
The 2014 IEEE Women in Engineering Awards
The IEEE Women in Engineering Committee has named the recipients of its first Inspiring Member and Student Member awards, and has recognized others who have distinguished themselves. More information can be found here.
IEEE to Integrate Bell Labs Technical Journal into the IEEE Xplore Digital Library
IEEE announced a partnership with Bell Labs, the global research arm of Alcatel-Lucent, to host the Bell Labs Technical Journal (BLTJ) in the IEEE Xplore Digital Library. The BLTJ is a peer-reviewed journal that aims to promote progress in communications worldwide and includes key research from Bell Labs and Alcatel-Lucent leaders in the fields of telecommunications, computer science, and engineering. The journal archive, dating to 1922, includes over 6,000 papers. More details can be found here.
IEEE Annual Elections
IEEE has officially released the names of the 2015–2016 IEEE Annual Election candidates. Candidates for the 2015 IEEE President-Elect include IEEE Fellows Tariq S. Durrani, Frederick C. Mintzer, and Barry L. Shoop.
IEEE members' annual election ballot packages should arrive in August via first-class mail. More details can be found here.
IEEE Annual Report
The 2013 IEEE Annual Report is now available. A more interactive and dynamic Web design was introduced this year.
IEEE Student Travel Grants
With college tuition skyrocketing and the high cost of books, it can be difficult for students to pay for registration fees and airfare to attend IEEE conferences. To offset some of the costs, IEEE is offering its student members a number of travel grants. Unlike student loans, the grants do not have to be repaid. You can read in more detail here.
Visit the IEEE Student Travel Grants page to find information about grants offered so far by 11 IEEE societies, as well as by the IEEE Foundation.
A Little Humor
What do you call two crows on a branch? Attempted murder.
–
A Roman walks into a bar, holds up two fingers, and says: "Five beers, please!"
Interesting Reads of the Month
But in his Manhattan office, high atop a Fifth Avenue building in the Flatiron district, he's quick to tell of his career failings.
He was forgetful. He was demoted. He found out the hard way that he was terrible at programming computers. "I'd keep forgetting the notation," Dr. Simons said. "I couldn't write programs to save my life."
Upcoming Deadlines
26 Jan – 28 Jan 2015 – 15th Topical Meeting on Silicon Monolithic Integrated Circuits in RF Systems – San Diego, CA. Paper or Abstract Submission Deadline: 25 July 2014.
8 Dec – 10 Dec 2014 – IEEE MTT-S International Microwave Workshop Series on RF and Wireless Technologies for Biomedical and Healthcare Applications – London, UK. Paper or Abstract Submission Deadline: 28 July 2014.
Upcoming Conferences
27 Aug – 30 Aug 2014 – International Symposium on Radio-Frequency Integration Technology – Hefei, China.
1 Sep – 3 Sep 2014 – IEEE International Conference on UltraWideBand – Paris, France.
3 Sep – 5 Sep 2014 – International Workshop on Cognitive Cellular Systems – Rhine River, Germany.
14 Sep – 19 Sep 2014 – International Conference on Infrared, Millimeter and Terahertz Waves – Tucson, AZ, USA.