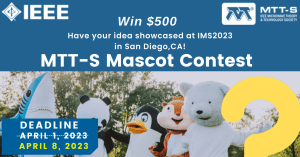 Do you have an idea for an IEEE MTT-S Mascot?
The IEEE Microwave Theory and Technology Society (MTT-S) is looking for a mascot to help showcase our society and our new name (change from Techniques to Technology)! This is a great opportunity to be creative and to influence the future of MTT-S! If you are a great artist, submit your artwork. If you are not a great artist but have a great idea, tell us about it. The mascot should embody what it means to be a part of the MTT-S and reflect not only the name change but our tagline "MHz To THz Community".
The winning idea/concept will be unveiled and prominently featured at the 2023 International Microwave Symposium (IMS2023) in San Diego, CA, USA.
Prize: $500 USD
Who May Enter: All current MTT-S members.
How to Enter: Entries may be submitted electronically. Click here to submit your entry.
Deadline: All entries must be submitted by midnight Hawaii time on April 1st, 2023

April 8th, 2023

.
Judging: Entries will be reviewed and a winner will be selected by a panel of judges.
Guidelines:
The mascot cannot duplicate another existing mascot or other IEEE society elements/branding.
This contest is for the Mascot only, the existing logo, tagline and branding colors cannot be changed.
The winning entry will:

Reflect the mission and vision of the MTT-S
Be inclusive of all MTT-S Members
Show a passion and investment in MTT-S
Be adaptable to all types of media (print, online, cut out, mascot costume, etc…)
Official Content Rules and Information: Click here to review. Please submit your entries by April 1st, 2023 April 8th, 2023.