IMS2016's technical program opens Monday, 23 May, in San Francisco with The Birth and Death of the Cell Phone, the plenary address by Dr. Martin Cooper, the Father of the Cell Phone. Following four days of programs, the meeting closes on 26 May with National Instruments CEO James Truchard's guide to "Software's Role in Next-Generation 5G RF and Microwave Systems and UC Berkeley professor Jan M. Rabaey's glimpse into the future of The Human Intranet—Where Swarms and Humans Meet.
MTT-S President Ke Wu formally welcomed the re-launched IEEE Microwave Newsletter to the ranks of Society publications and thanked the Newsletters Work Group and its chair, Daniel Pasquet, for making it happen. President Wu invited MTT-S's members (now more than 11,000 strong) to contact him or Dr. Pasquet with ideas and suggestions.
A team from the University of Bristol in the U.K. and Lund University in Sweden achieved 145.6 (bits/s)/Hz for 22 users, each modulated with 256-QAM, on a shared 20 MHz radio channel at 3.51 GHz with an 128-antenna massive MIMO array. This is a 22-fold increase on current 4G spectrum efficiency that beats the group's March mark of 79.4 (bits/s)/Hz for 12 and Facebook's April demonstration of 71 (bits/s)/Hz for 24 users.
Researchers at the U.K.'s National Physics Laboratory (Teddington, UK) have begun laying out a new measurement capability for providing fully calibrated, traceable scattering parameter measurement in rectangular waveguides in the 750 GHz to 1.1 THz range.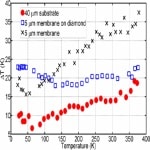 Three different gallium arsenide structures have been evaluated over the temperature range from 20 K to 380 K, offering designers help in matching substrates to working conditions.
In response to increasing use of millimeter and submillimeter waves in security scanners, the International Commission for Non-Ionizing Radiation Protection has established power flux safety limits of 1mW/cm2 in the 2 to 300 GHZ range, and specific absorption rates of 0.08 W/kg for the body and 2 W/kg for limbs in the 100 kHz to 10 GHz range.
Physicists at the German Center for Air and Space Travel have surveyed the techniques used for terahertz spectroscopy, "a backbone method in many areas of research," evaluating performance of quantum cascade and germanium THz laser-driven systems, and analyzing errors in time-domain systems.
Engineers at Loyola University Maryland (Baltimore, MD) harnessed genetic algorithms to refine Fresnel reflection coefficients for conductor-backed dielectric materials using evolving estimates of permittivity to produce a best fit to the measured coefficient.
In addition to IMS2016, MTT-S sponsors, co-sponsors, or technically sponsors another 17 conferences this year, beginning with this week's Microwaves for Intelligent Mobility in San Diego and Microwave Measurement immediately following IMS in San Francisco, and winding up with the Asia Pacific Microwave Conference on 12 December in Delhi.
NEWS PRODUCT | PROMOTED CONTENT
DX Wireless and Remcom announce the integration of SignalPro® with Wireless InSite® X3D ray-tracing (with GPU acceleration) available as an add-on, beginning with the release of SignalPro version 8.3.
National Instruments introduced what it called the world's first software-defined radio for the millimeter-wave spectrum. The unit can transmit and receive signals with up to 2 GHz bandwidth in the E-band spectrum (71 to 76 GHz), a major target of 5G communications development.
PROMOTED CONTENT High Power Surface-Mount Bi-Directional Coupler
Mini-Circuits offers the new model MBDA-30-451HP, a bi-directional coupler that achieves 200W combined DC and RF power handling for applications from 225 to 450 MHz, including power amplifiers, antenna feeds, military systems and more.

SPONSORED CONTENT