IN THIS ISSUE
From the Editor
Table of Contents for recent MTT publications
European Microwave Week (EuMW 2014)
Asia-Pacific Microwave Conference (APMC2014)
IEEE Topical Meeting on Silicon Monolithic Integrated Circuits in RF Systems (SiRF2015)
MTT-S Call for Award Nominations
A Little Humor
Interesting Reads of the Month
Upcoming Deadlines
Upcoming Conferences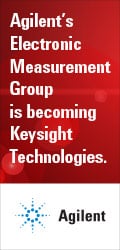 Thought of the Month:
"Everything must be made as simple as possible. But not simpler." – Albert Einstein
From the Editor
Welcome to the June 2104 issue of the IEEE MTT-S e-newsletter; the official monthly e-newsletter for MTT-S members. Hope you all had a great time attending the IMS 2014 in Tampa Bay, Florida. The next major conferences will be in the Fall – the European Microwave Week (EuMW 2014) in Rome, Italy, from 5–10 October 2014; and the 2014 Asia-Pacific Microwave Conference (APMC 2014) in Sendai, Japan, from November 4–7, 2014.
— Bhaskar Banerjee
Editor, MTT-S eNewsletter
Table of Contents for recent MTT publications
European Microwave Week (EuMW 2014)
Registration is now open European Microwave Week will be held Oct 5–10, 2014 in Rome, Italy. The conferences as a part of the EuMW are:
The European Microwave Conference (EuMC)
The European Radar Conference (EuRAD)
The European Microwave Integrated Circuits Conference (EuMIC)
Asia-Pacific Microwave Conference (APMC2014)
The 2014 Asia-Pacific Microwave Conference (APMC2014) in Sendai, Japan, on November 4–7, 2014. The APMC2014 will provide information on the latest development in RF/microwave fields from devices, circuits, components to systems including basic theory and techniques.
APMC2014 is organized and sponsored by the Institute of Electronics, Information and Communication Engineers (IEICE), and is co-sponsored by IEEE MTT-S, IEEE AP-S, EuMA, URSI, IEEE MTT-S Japan/Kansai/Nagoya Chapters, IEEE Sendai Section, IEICE Technical Committees on Microwaves/
Electronics Simulation Technology/ Microwave Photonics, Japan Institute of Electronics Packaging,
Japan Society of Electromagnetic Wave Energy Applications, IEEJ Investigative Committee on Innovative Electromagnetic Technologies and Their Applied Developments.
IEEE Topical Meeting on Silicon Monolithic Integrated Circuits in RF Systems (SiRF2015)
IEEE Topical Meetings on Silicon Monolithic Integrated Circuits in RF Systems (SiRF) have been at the forefront of moving Silicon technologies into microwave and millimeter-wave applications – a development now widely accepted, and of great importance. RF CMOS and Si/SiGe BiCMOS technologies are well established in commercial and increasingly also military applications. Invited tutorial talks from international experts will be presented in key topical areas. A student paper competition will be held, and prizes will be given at the conference banquet.
SiRF is part of the IEEE Radio Wireless Week (RWW), which also includes the Radio and Wireless Symposium (RWS) and the IEEE Topical Conferences on Wireless Sensors and Sensor Networks (WiSNet), Biomedical Radio and Wireless Technologies, Networks, and Sensing Systems (BioWireleSS), and Power Amplifiers for Wireless and Radio Applications (PAWR).
We will continue posting updates and information about the conference on this website. Make sure you visit this website frequently to keep track with the latest news about SiRF 2015!
Opportunity for IEEE Journal Publication of Expanded Papers
For this year's conference, it is planned that a set of selected papers presented at the conference will be specially arranged for submission to IEEE Transactions on Microwave Theory and Techniques with the papers in a single issue. It is noted that the papers need to be significantly expanded from the conference version and will go through the regular review process for publication.
Important Dates
Paper submission due: July 25, 2014
Accept/reject notice: September 16, 2014
Final manuscript: November 4, 2014
Conference date: 26–28 January, 2015
For more details check out the SiRF 2015 conference website.
MTT-S Call for Award Nominations
Honoring MTT members, your peers and colleagues, was one of the reasons why the MTT society was formed. It's a good time, with the International Microwave Symposium coming up, to work with your colleagues to nominate deserving people for MTT Awards, especially the MTT-S Technical Awards.
Nomination Deadline: August 1, 2014
For more information, go to page.
Your support of the awards process helps the fabric of the MTT society, and honors those that deserve to be honored. For additional information contact Dr. Charles Jackson, MTT-S Awards Committee Chair.
A Little Humor
Two radio antennas got married.
The ceremony was only so so, but the reception was fantastic!
–
Why do noble gases always feel so lonely?
Because no one wants to bond with them!
Interesting Reads of the Month
IEEE Spectrum has an interesting article on B. Jayant Baliga – pioneer of Power Semiconductors.
The Economist expounds on tiny satellites using consumer technologies changing the space business.
A very interesting essay in Mother Jones discusses the ever increasing focus on computer literacy:
Unfortunately, the way computer science is currently taught in high school tends to throw students into the programming deep end, reinforcing the notion that code is just for coders, not artists or doctors or librarians. But there is good news: Researchers have been experimenting with new ways of teaching computer science, with intriguing results. For one thing, they've seen that leading with computational thinking instead of code itself, and helping students imagine how being computer savvy could help them in any career, boosts the number of girls and kids of color taking—and sticking with—computer science. Upending our notions of what it means to interface with computers could help democratize the biggest engine of wealth since the Industrial Revolution.
Upcoming Deadlines
27 Aug – 30 Aug 2014 – International Symposium on Radio-Frequency Integration Technology – Hefei, China Paper or Abstract Submission Deadline: 11 Jun 2014
26 Jan – 28 Jan 2015 – 15th Topical Meeting on Silicon Monolithic Integrated Circuits in RF Systems – San Diego, CA Paper or Abstract Submission Deadline: 25 July 2014
Upcoming Conferences
16–21 Jun 2014 – 6th International Conference Microwave and Radar Week – Lviv (Ukraine)
27 Aug – 30 Aug 2014 – International Symposium on Radio-Frequency Integration Technology – Hefei, China