---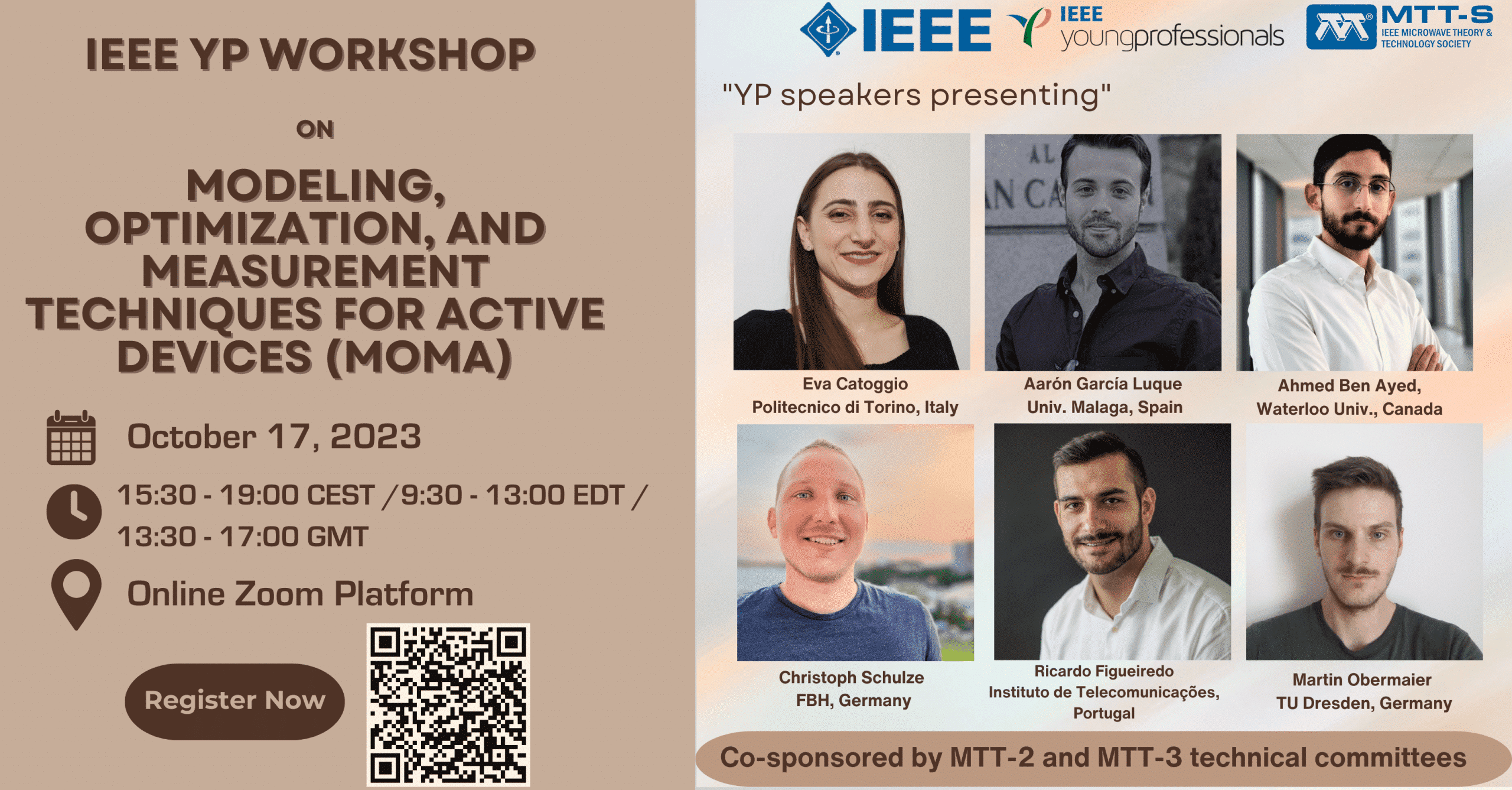 IEEE MTT-S Young Professionals Workshop on Modeling, Optimization, and Measurement Techniques for Active Devices (MOMA)
Co-chairs
Gian Piero Gibiino (University of Bologna, Italy), Justin King (Trinity College Dublin, Ireland)
Abstract
The second edition of this virtual workshop aims to discuss recent and prospective trends in the broad field of RF active device modeling and measurement techniques, spanning from devices to systems. Six Young Professional (YP) speakers will present their ongoing research, and field experts will share their insights during a scientific panel discussion.
Schedule
Tuesday, 17th October 2022, 13:30 – 17:00 UTC
This workshop will be conducted virtually via Zoom. It is open to everyone free of charge.
Please register here in advance to receive the Zoom link.
Workshop Agenda
13:30 – 15:00 UTC – Presentation Session 1
[S1-1] 13:30 – 14:00 UTC – Eva Catoggio, Politecnico di Torino, Italy, "TCAD modeling techniques of active devices for microwave applications"
Abstract – Technology CAD (TCAD) simulations represent a powerful tool to link the performance of microwave devices to the fabrication technology, providing accurate modeling of the active device behavior in all operating conditions. In this work, an in-house TCAD simulator, allowing for large-signal multi-tone periodic and quasi-periodic analysis through the Harmonic Balance technique, is presented. The advanced capabilities of the TCAD solver are exploited for the investigation of frequency dispersion phenomena related to temperature and trapping mechanisms, with a significant impact on the device performance in microwave applications.
[S1-2] 14:00 – 14:30 UTC – Aarón García Luque, Univ. Malaga, Spain, "Accurate Nonlinear Modeling of Diodes for High Frequency Applications including Nonquasi static Phenomena and Parasitic Elements Estimation"
Abstract – The nonlinear modeling of microwave diodes is carried out by a methodology that pays attention to the intrinsic device and also characterizes the high-frequency linear network. A measurement-based extraction technique for quasi-static and 1st-order nonquasi-static models were introduced from single-tone injections together with a S-parameter-based parasitic parameters modeling. The CAD-tool extracted circuits were validated at different power, bias and frequencies for commercial diodes and varactors with excellent results and highlighting the advantages of the nonquasi-static models at higher frequencies.
[S1-3] 14:30 – 15:00 UTC – Ahmed Ben Ayed, Waterloo Univ., Canada, "Recent Advances in Behavioral Modeling and Linearization Techniques for Frequency Multiplier Transmitters Driven by Millimetre wave Modulated Signals"
Abstract – This presentation analyzes nonlinear behavior in Frequency Multiplier (FM)-based transmitters, employing Vector Network Analyzers (VNAs) to characterize phase distortion under CW and modulated signals. It introduces a dual-input model to describe FM-based radios in multi-antenna systems, highlighting their reduced susceptibility to load modulation compared to PA-based arrays. The presentation also explores linearization of FM-based radios using a SISO DPD scheme for wideband OFDM signals. Recent system-level advancements for optimizing FM-based beamforming TXs are discussed.
15:00 – 15:30 UTC – Panel Session
Prof. J. Bandler (McMaster University, Canada)
Prov. T. Martin Guerrero (University of Malaga, Spain)
Prof. M. Pirola (Politecnico di Torino, Italy)
Prof. P. Roblin (University of Ohio, USA)
Prof. M. Rudolph (Brandenburg University of Technology, Germany)
Prof. Q.J. Zhang (Carleton University, Canada)
15:30 – 17:00 UTC – Presentation Session 2
[S2-1] 15:30 – 16:00 UTC – Christoph Schulze, Ferdinand-Braun-Institut, Germany, "Wideband calibration methods on a modified VNA system for 5G large-signal measurements"
Abstract – The workshop is about wideband calibration of a modified multi-port vector network analyzer (VNA) for large signal measurements. The system allows intermediate frequency measurements exceeding 5 GHz bandwidth based on external IF capturing and signal processing. The participants will be guided through the different steps of an on-wafer calibration including error term calculation, correction to the reference-planes and dynamic range improvement. Furthermore, two different calibration methods will be shown as well as a verification of the calibration using wideband signals.
[S2-2] 16:00 – 16:30 UTC – Ricardo Figueiredo, Instituto de Telecomunicações, Portugal, "Multi-Tone Linearity Characterization Techniques Capable of Predicting Performance in Real Operation"
Abstract – Modulated signals cannot be mimicked by CW, nor two-tone signals. Classical linearity characterization techniques are obsolete in modern scenarios. But the need to measure linearity with real communication signals is overemphasized. This talk explains how to design multi-tones that excite the relevant active device states, and how to use them to infer linearity under modulated signal operation. The aim is to establish a universal framework to assess linearity in different modulation scenarios, to bring broadband linearity analysis to the design stage, and improve first-pass design performance.
[S2-3] 16:30 – 17:00 UTC – Martin Obermaier, TU Dresden, Germany, "Fast and Reliable Nearfield Characterization of mmWave Antenna Arrays in a Production Environment"
Abstract – Fast and accurate characterization of array antennas based on near field measurements, is essential for the large-scale industrial production of antenna arrays.  Based on this motivation an active probe antenna array (PAS) system is presented, which allows the characterization and reconstruction of far field patterns based on near field measurements without any relative movement between AUT and PAS. The design and construction of the active PAS together with its operating principle will be discussed.
---