---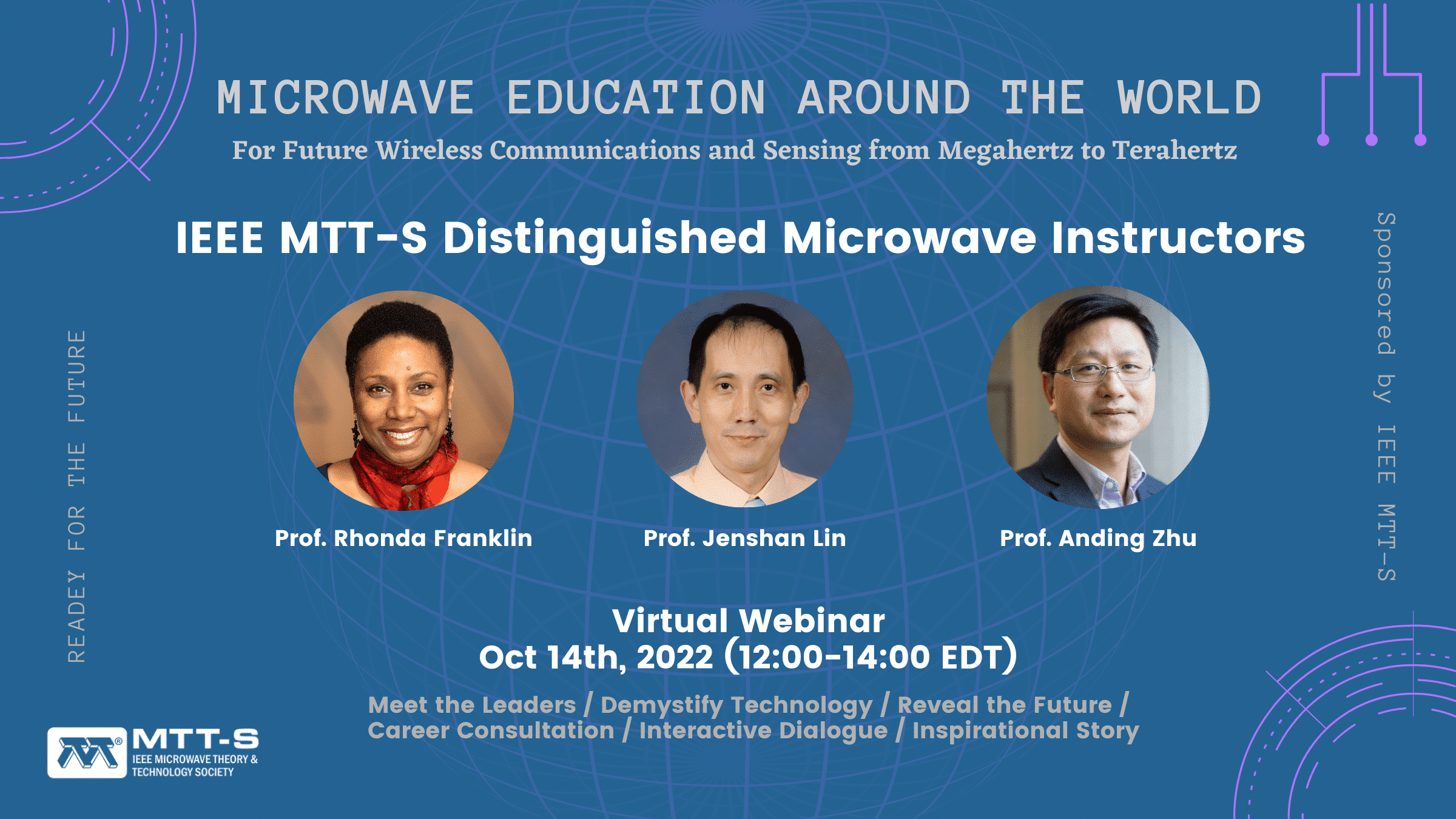 MTT-S Distinguished Microwave Instructor Program
Prof. Rhonda Franklin, University of Minnesota, USA
Prof. Jenshan Lin, NSF and University of Florida, USA
Prof. Anding Zhu, University College Dublin, Ireland
The Distinguished Microwave Instructor (DMI)
•  The DMI program is supported by the IEEE Microwave Theory and Technology Society (MTT-S), which aims to stimulate the interests among undergraduate or tertiary students to bridge the pathway to the development of future wireless communications and sensing systems.
•  Through the DMI program, world-famous educators and engineers will introduce the history of wireless technologies, the evolution of modern wireless systems, and the cutting-edge wireless applications to be used in our daily lives in the foreseeable future. These DMIs will also share their own experience of growth.
Being a Part of the DMI Program
•  The DMIs will reveal the mysterious veil of wireless technologies and show you the long journey of wireless technologies from traditional applications 30 years ago (radio, TV and analogue mobile phone) to today's portable devices and wearable/implantable wireless sensors.
•  The participants will learn about ground-breaking achievements that microwave and wireless technologies have made to human civilization.
•  By engaging with the DMIs, the participants will have access to excellent educational resources, touch the evolution of microwave engineering and feel the changes in the world through vibrant technologies such as the 5G/6G wireless communications, virtual reality, telepresence and automotive radar in unmanned vehicles.
About the Webinar Format
•  The webinar takes the form of three short presentations about relevant aspects of our future lives where microwave engineering will play a key role. After the presentations, the students will have the opportunity to engage in a live panel session interacting with our three invited DMIs.
Why You Should Attend
•  Don't miss this opportunity to discover that microwave engineering is not only fun but also a key aspect in many of our society's future challenges. Make your contribution!
Talk Titles and Speakers' Bios
| | | |
| --- | --- | --- |
| | | |
| Prof. Rhonda Franklin received her B.S. from Texas A&M University, and M.S. and Ph.D. from the University of Michigan in Electrical Engineering. She is a professor of electrical and computer engineering at University of Minnesota. Her research investigates design of circuits, antennas, integration and packaging techniques, and characterization of electronic materials and magnetic nanomaterials for communication, biomedical and nanomedicine applications. | Prof. Jenshan Lin (IEEE Fellow) received his Ph.D. degree in electrical engineering from UCLA. He is currently a Program Director at U.S. National Science Foundation, and a Professor Emeritus of University of Florida. In his early career prior to joining University of Florida, he worked for Bell Labs and its spinoff Agere Systems. Throughout his career in industry, academia, and government, he worked on several wireless technologies for communications, sensing, and power, and is now managing funding programs covering these topics. | Prof. Anding Zhu (IEEE Fellow) received the Ph.D. degree in electronic engineering from University College Dublin, Ireland, where he is currently a Professor. His research interests include high-frequency nonlinear system modeling and device characterization techniques, high-efficiency power amplifier design, wireless transmitter architectures, and nonlinear system identification algorithms. |
Attendance is FREE but require REGISTRATION to provide your name, email address and affiliation. The link to the webex meeting will be automatically sent to the email address that you indicated during the registration process. 

---