---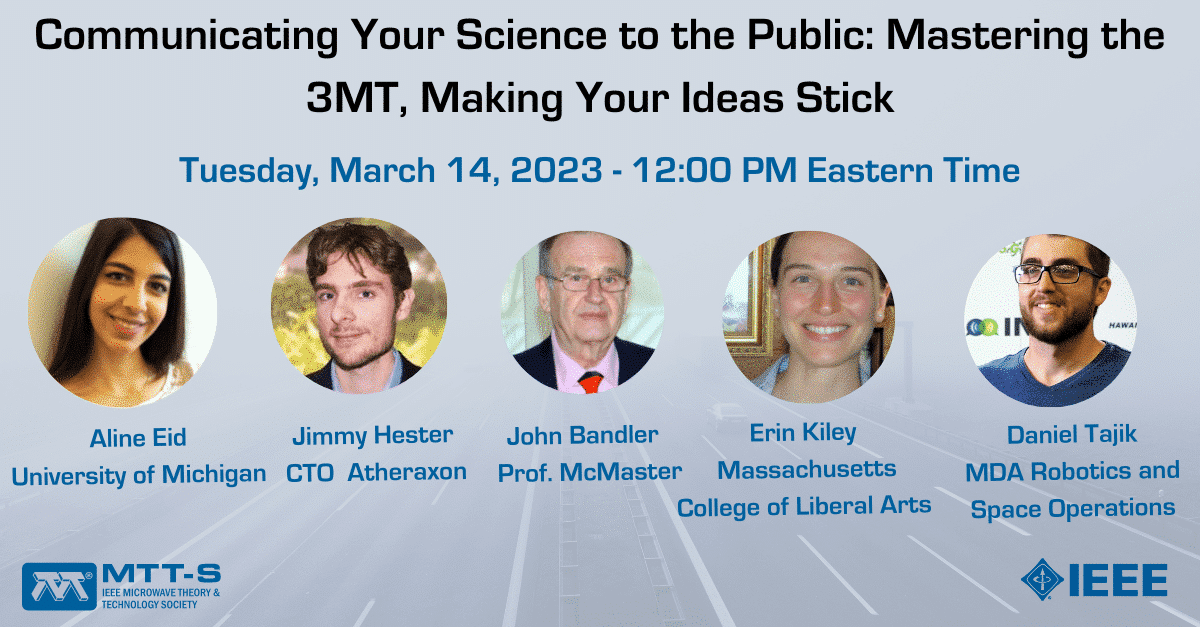 Communicating Your Science to the Public: Mastering the 3MT, Making Your Ideas Stick
Aline Eid, Assistant Prof. in EECS at the University of Michigan Ann Arbor
Jimmy Hester, CTO and Co-Founder of Atheraxon
John Bandler, OC, McMaster Prof. Emeritus
Erin Kiley, Associate Prof. of Mathematics at the Massachusetts College of Liberal Arts
Daniel Tajik, Technical Staff – Electrical at MDA Robotics and Space Operations
Abstract: You press the button for the 30th floor. As the doors close, frantic steps. You hold up your elevator. A woman enters. You recognize her: she is famously known for her investments in technological and scientific projects. After customary small talk, she asks you what you do. This is your chance, but time is running out. How do you present your vision to a powerful and potential advisor, champion, and investor, to get her to believe in you and your mission, to get her support, and make sure she will never forget you? Microwave Week 2023 Three Minute Thesis® (3MT®) co-chairs and committee members bring you the seventh webinar sponsored by the IEEE MTT-S Education Committee in support of communication skills for the broad dissemination of the outstanding scientific work produced by our community, and in preparation for its flagship 2023 Microwave Week 3MT® Competition. We will show you how you can make almost any idea stickier, and a sticky idea is an idea that is more likely to survive beyond its enunciation and to make a difference. We will discuss ways to engage and connect with your audience; highlight the importance of first impressions, storytelling, and purposeful gestures; elaborate on presentation do's and don'ts; the importance of clarity, citation, acknowledgement and gaining trust; those crucial first few seconds and your first few slides; and how to identify and avoid potential traps and pitfalls. We draw on our collective experiences with successful press releases, startup pitching, running entrepreneurial and exhibition booths, mentoring and coaching candidates for competitive presentations, as well as delivering webinars and workshops on engaging presentations. While students and young professionals would be expected to be our primary audience, professors and practicing engineers from industry should equally appreciate this webinar. Attendance is free. To access the event please register here.
Speakers' Bio:
Aline Eid is an Assistant Professor in EECS at the University of Michigan Ann Arbor, recipient of 16 awards during her master's and PhD studies, inventor in 4 patents, and author/co-author of more than 50 conference and journal papers. Her goal is to develop zero-power mm-wave-enabled solutions for smart cities and infrastructures.
Jimmy Hester received his M.S. and Ph.D. in Electrical and Computer Engineering from the Georgia Institute of Technology, Atlanta, in 2014 and 2019, respectively. He is now the CTO and co-founder of Atheraxon, the company commercializing the 5G RFID technology.
John Bandler, OC, McMaster professor emeritus, is an award-winning engineer, entrepreneur, innovator, artist, speaker, author of fiction, playwright and filmmaker. An Officer of the Order of Canada, winner of the Professional Engineers Ontario 2018 Gold Medal and the 2023 IEEE Electromagnetics Award, he has coached 100's of individuals for presentations.
Erin Kiley is an Associate Professor of mathematics at the Massachusetts College of Liberal Arts, working on multiphysics computer models of high-power microwave applications that include heating and sintering. She's been involved with the 3MT at IMS since its inaugural year in 2017.
Daniel Tajik is a Member of Technical Staff – Electrical at MDA Robotics and Space Operations. He received his PhD in Electrical and Computer Engineering at McMaster University in 2022. Daniel has won several 3MT (C) competitions, both locally and internationally. Daniel is also the Chief Telecommunications Advisor of the NEUDOSE CubeSat team.
---