IN THIS ISSUE
From the Editor
Table of Contents for recent MTT publications
IEEE Compound Semiconductor IC Symposium (CSICS 2014)
Radio Frequency Integrated Circuits Symposium (RFIC 2014)
MTT-S 2014 Outstanding Chapter Award
Introducing the 2014 Fellows
Interesting read of the month: Dudley Buck's Forgotten Cryotron Computer
A Little Humor
Upcoming Deadlines
Upcoming Conferences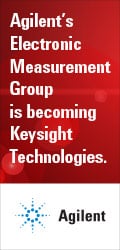 Thought of the Month:
"If an apple is magnified to the size of the earth, then the atoms in the apple are approximately the size of the original apple." – Richard P. Feynman
From the Editor
Welcome to the March 2014 issue of the IEEE MTT-S e-newsletter; the official monthly e-newsletter for MTT-S members. After a busy start to the new year, we are ramping up to the International Wireless Symposium in Xi'an, China from 24–26 March 2014. With the IMS 2014 fast approaching, it is time to start planning the trip – please complete hotel reservations at the earliest as rooms are getting sold out!
— Bhaskar Banerjee
Editor, MTT-S eNewsletter
Table of Contents for recent MTT publications
IEEE Compound Semiconductor IC Symposium (CSICS 2014)
The Symposium will be held on October 19–22 at the Hyatt Regency La Jolla at Aventine in San Diego, California, USA. CSICS is a highly regarded annual technical conference and exhibition at which distinguished experts in the field of semiconductor technology and circuit design meet to share their latest state-of-the-art developments and innovations. It is an ideal forum for presenting your latest results in microwave/mm-wave, THz, power conversion, and analog mixed signal integrated circuits and welcomes original work in GaN, GaAs, InP, SiGe, and nanoscale-CMOS technologies. Paper submission is open until 2 May 2014. Download the Call for Papers for more details.
2014 IEEE CSICS highlights:
Featured speakers: I. Fujimori (Broadcom), D. Green (DARPA), A. Margemenos (HRL), H. Blanck (UMS), G. Collins (MaXentric), G. Rebeiz (UCSD), U. Pfeiffer (Wuppertal), A. Tomkins (Peraso), C. Appel (CISCO), S. Menezo (LETI), M. Rodwell (UCSB), H. Yamazaki (NTT), P. Saunier (TQS), A. Gutierrez (NGC), P. Ye (Purdue).
Short course 1: GaN HEMT Device Modeling taught by I. Angelov (Chalmers), R. Trew (NCSU), D. Root (Agilent).
Short course 2: Fundamentals of Power Conversion and Envelope Tracking taught by D. Maksimovic (UCB), D. Kimball (MaXentric).
Symposium primer: Introduction to Si RFIC Design taught by W. Khalil (Ohio State).
Student paper competition: A finalist will be announced at CSICS and receive special recognition. Competition rules, eligibility and requirements can be found [here](http://www.csics.org/Documents/2014/IEEE CSICS 2014 Student Paper Competition Rules.pdf).
Key dates:
Paper Submission Deadline: 2 May 2014
Paper Acceptance Notification: 13 June 2014
Final Paper Submission for Digest Publication: 25 July 2014
For up-to-date information, please visit the CSICS website. Further questions may be addressed to the Symposium Chair: Douglas S. McPherson, Ph: +1–613–670–3371.
Radio Frequency Integrated Circuits Symposium (RFIC 2014)
RFIC 2014 will be held June 1–3, 2014 in Tampa, FL, in conjunction with Microwave Week 2014.
Plenary Program: First, Dr. Hooijmans (VP at NXP Semi) and Dr. Larson (Dean at Brown Univ) will each discuss future trends for the RFIC Industry. Second, the well-known RFIC reception will now highlight key industry papers presented at the Symposium in the all-new Industry Showcase entitled "Hot Chips and Cool Drinks", a nice way to mix business and pleasure. Finally, renowned panelists from leading RFIC companies and labs will debate "Beyond 4G Wireless Communications" in a plenary roundtable.
Technical Program: A total of 102 technical papers will be presented during 18 oral sessions through Monday and Tuesday of Microwave Week and an interactive forum on Tuesday afternoon.
Workshops and Panels: Sixteen workshops and two panels are offered, covering RFIC technology breakthroughs and trends in areas such as power amplifiers, millimeter-wave, data conversion, PLLs, and transceivers.
For more information, please go to the RFIC 2014 website.
MTT-S 2014 Outstanding Chapter Award
The MTT-S is introducing a new award for Outstanding Chapters worldwide that have exhibited exceptional performance. This award recognize the chapter's contributions with special consideration for the local constraints and chapter size. Based on 2014 nominations, endorsement by Regional Coordinators and Awards Committee evaluation, the 2014 Awarded Chapters are:
Singapore
North Jersey
East Ukraine
Southeastern Michigan
Kansai
Queensland
Croatia
Saratov
Moscow
The winning chapters have portrayed an outstanding service to MTT-S members, technical activities, societal activities, educational activities, membership advancement, Fellow and award nominations. The winning Chapters will be awarded a plaque that will be presented at a 2014 MTT-S Chapter Chairs' Meeting.
For more details on the award, checkout the Outstanding Chapters Website or contact Dr. Alaa Abunjaileh.
Introducing the 2014 Fellows
Congratulations to the 293 new IEEE Fellows who join the elite rank of about 7300 other fellows during the 50th year of celebrating excellence in the advancement of engineering, science, and technology.
Interesting read of the month: Dudley Buck's Forgotten Cryotron Computer
Fascinating article in IEEE Spectrum about the MIT graduate student's efforts to build computers using superconducting magnetic switches in the 1950s:
One of the most original of these explorers was Dudley Allen Buck, who worked at MIT from 1950 until his sudden death in 1959 at age 32. Buck made important early contributions to the development of microcircuitry—the pursuit of highly miniaturized circuits fabricated as integral wholes rather than from discrete components wired together. What's more, Buck invented the "cryotron," a superconducting switch he hoped would become the fundamental building block for future digital computers.
…
Buck's vision outlived him. It survives even today: The cryotron is at the root of efforts at IBM and elsewhere to make superconducting quantum bits—qubits—in pursuit of quantum computing.
A Little Humor
Four college friends were so confident that the weekend before finals, they decided to go up to Dallas and party with some friends up there. They had a great time. However, after all the partying, they slept all day Sunday and didn't make it back to Austin until early Monday morning.
Rather than taking the final then, they decided to find their professor after the final and explain to him why
they missed it.
They explained that they had gone to Dallas for the weekend with the plan to come back and study but, unfortunately, they had a flat tire on the way back, didn't have a spare, and couldn't get help for a long
time. As a result, they missed the final.
The Professor thought it over and then agreed they could make up the final the following day. The guys were
elated and relieved.
They studied that night and went in the next day at the time the professor had told them. He placed them in
separate rooms and handed each of them a test booklet, and told them to begin.
They looked at the first problem, worth 5 points. It was something simple about free radical formation. "Cool,"
they thought at the same time, each one in his separate room. "This is going to be easy."
Each finished the problem and then turned the page. On the second page was written:
(For 95 points): Which tire?
Upcoming Deadlines
28 Sep – 2 Oct 2014 – IEEE Bipolar/ BiCMOS Circuits and Technology Meeting – Chicago, IL (USA) Paper or Abstract Submission Deadline: 29 Apr 2014
20 Oct – 23 Oct 2014 – International Topical Meeting on Microwave Photonics – Hokkaido, Japan Paper or Abstract Submission Deadline: 5 May 2014
4 Nov – 7 Nov 2014 – Asia Pacific Microwave Conference 2014 – Sendei, Japan Paper or Abstract Submission Deadline: 1 Jun 2014
27 Aug – 30 Aug 2014 – International Symposium on Radio-Frequency Integration Technology – Hefei, China Paper or Abstract Submission Deadline: 11 Jun 2014
Upcoming Conferences
8–9 May 2014 – IEEE Wireless Power Transfer Conference – Jeju (Korea)
14–16 May 2014 – International Conference on Numerical Electromagnetic Modeling and Optimization for RF, Microwave, and Terahertz Applications – Pavia (Italy)
1–3 Jun 2014 – 2014 IEEE Radio Frequency Integrated Circuits Symposium (RFIC) – Tampa Bay, FL (USA)
1–6 Jun 2014 – 2014 IEEE International Microwave Symposium (IMS) – Tampa Bay, FL (USA)
6 Jun 2014 – 16th IEEE Annual Wireless and Microwave Technology Conference (WAMICON) – Tampa, FL (USA)
16–21 Jun 2014 – 6th International Conference Microwave and Radar Week – Lviv (Ukraine)
27 Aug – 30 Aug 2014 – International Symposium on Radio-Frequency Integration Technology – Hefei, China