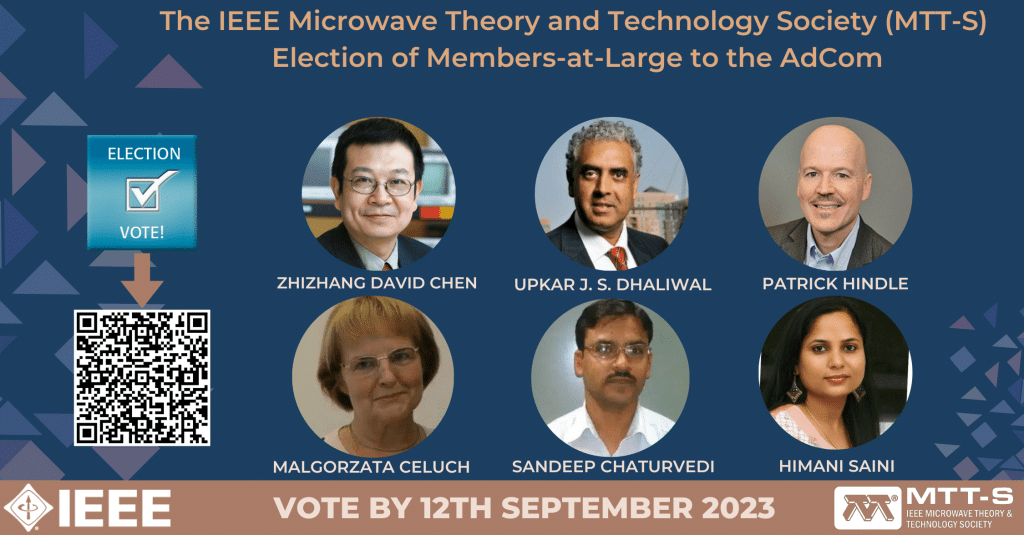 2023 IEEE MTT-S Members-at-Large Election
The 2023 IEEE Microwave Theory and Technology Society (MTT-S) election of Members-at-Large to the Administrative Committee (AdCom) is open on 1st August 2023. We hope you will take the time to exercise your vote and help choose the future direction of society.
VOTE at https://eballot.app/IEEE. Please visit here for information about the candidates, including their biographies, IEEE activities, qualifications, major accomplishments, and personal statements.
You will need your IEEE Account username/password to access the ballot. Important Access Information: Please make sure you are signed out of all other applications in your browser before attempting to log into the voting site. If you are having trouble accessing the site, it could be because you are not signed in to your IEEE Account and recommend that you copy the link and paste it into 1) a private browsing window if using Firefox or 2) an incognito window if using Chrome, and log in with your IEEE Account information.
Voting must be completed no later than 12th September 2023. Any returns received after this date will not be counted. The online voting site will close at 4:00 pm Eastern Time.
If you have any questions about the voting process, please contact ieee-mttvote@ieee.org or +1 732 562 3904.