September 2023 Issue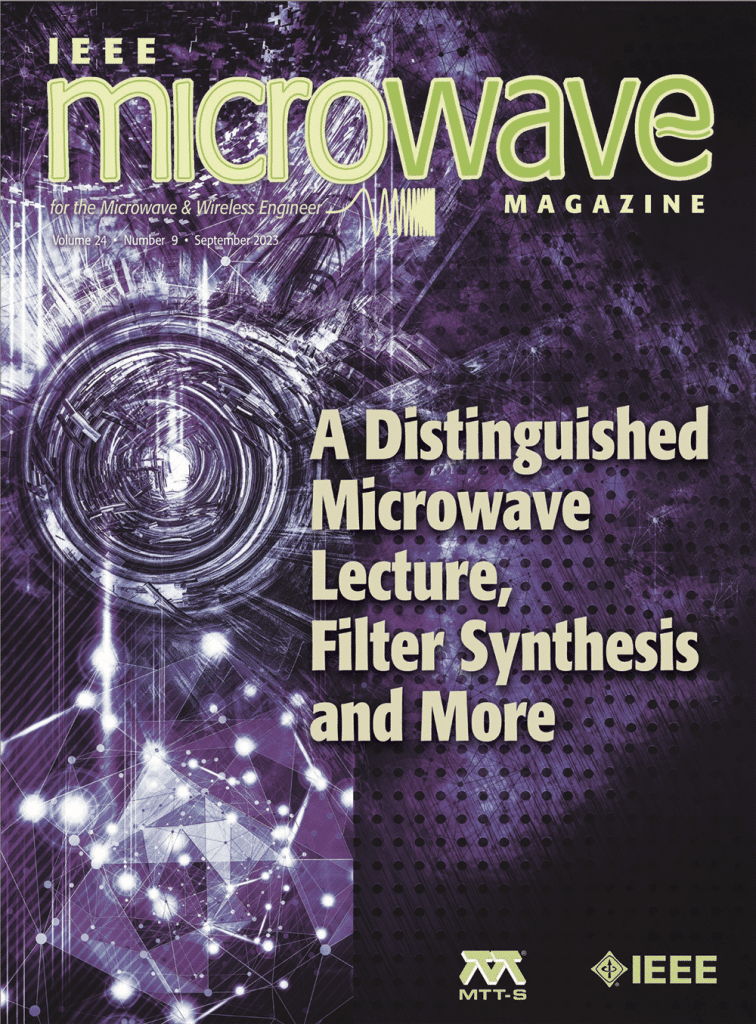 In this month's President's Message, Nuno Borges Carvalho talks about the MTT-S's updated version of the classic Smith chart. While all practicing microwave engineers know how to use one, for educators, it is also an excellent tool to help students to gain intuition in transmission line and microwave circuit behavior, and the updated charts by the MTT-S will help in this regard. Reading Nuno's column reminded me of a short telephone conversation I had with Phillip H. Smith back in the mid-1980s regarding using the Smith chart on a project I was working on early in my academic career; I recall him being very engaging. This remembrance . motivated me to explore a little bit more about his career and I found there is interesting historical content readily available about Phillip Smith and his career on the web, including an interview with him conducted by Frank Polkinghorn of the IEEE History Center and available online through the Engineering and Technology History Wiki [1]. I encourage everyone, especially our Young Professional readers, to read about his storied career and to see how far a versatile microwave engineering education, and experience, can take you.
Many times each year, IEEE Sections and Chapters around the world hold meetings where local and regional microwave engineers meet to network and learn about new technologies. One of the ways MTT-S supports these chapters is through the Distinguished Microwave Lecturer (DML) program, where each year four to six internationally recognized experts are selected to present their lectures in either in-person or virtual modalities. This month's technical feature selection starts off with an article based on the DML lecture by Payam Heydari and entitled "A Ground-Up Design Approach from Single-Stage Amplifier to Distributed Topology". In this lecture-turned-article, Payam, along with Mahyar Safiallah, discusses the distributed amplifier (DA) but focuses on topics and concepts that can be used in the successful design of these amplifiers and finishes up the paper with some tips on improving the DA gain and linearity. The use of the coupling matrix has been shown to help in the design of complex coupled resonator filters, and our second paper by Ping Zhou and Ke Wu titled "Coupling Matrix Synthesis for Filters With Linear Frequency-Dependent Couplings " provides not only the theoretical background to understand this powerful technique, but also provides several design examples to see how to apply the concept. Photographs of some quite complex filters also show the power of this technique. Current wireless power transfer (WPT) and related technologies use both near field and far field effects to either transfer or harvest power. The transfer path in either (or maybe both) direction(s) can be quite complex and nearly impossible to describe with closed form solutions, but modern simulation tools can easily provide a solution to a particular scene. However, the question always arises: is this the best solution? In our third feature by Khan et al titled "Computational Intelligence for Modeling and Optimization of RFEH and WPT Systems: A Comprehensive Survey ", the authors provide an in-depth look at various approaches to help find the best solution in the WPT environment. Our final feature by Luong et al titled "Quantum Radar: Challenges and Outlook" reviews this technique and provides what the authors view as the future for this technology.
Elsewhere in the issue, Fred Schindler in his MicroBusiness column talks about how important ideas are to the success of any business, and provides an important perspective on how ideas drive an organization towards decision-making. In the Microwave Surfing column, Rajeev Bansal provides us with a brief history of something that is found on everyone today, the personal communication device. Sherry Hess summarizes a panel held recently at the Design Automation Conference titled "Women in Engineering: Real Advice for Today's Women Engineers". Sherry describes the sharing of personal experiences of the panelists as well as the results of studies showing the creativity that diverse engineering teams can bring to generate solutions to problems. One of the classic electromagnetics concepts involves the calculation of magnetic field generated by a sheet of current. In the Educators Corner this month, Raghavendra Kulkarni describes an alternate method for the solution that university instructors might find interesting as an alternative approach for their students to the magnetic field calculation. Rounding out this month's issue is our Ombuds Officer report, a new Enigma problem for you to consider, and of course our Conference Calendar.
We hope you enjoy the issue.
[1] Philip H. Smith: An Interview Conducted by Frank A. Polkinghorn, IEEE History Center, January 19, 1973, Interview # 003 for the, IEEE History Center, The Institute of Electrical and Electronics Engineers, Inc., Online: https://ethw.org/Oral-History:Philip_H._Smith, accessed 6-7-2023